Tuesday, December 16 2014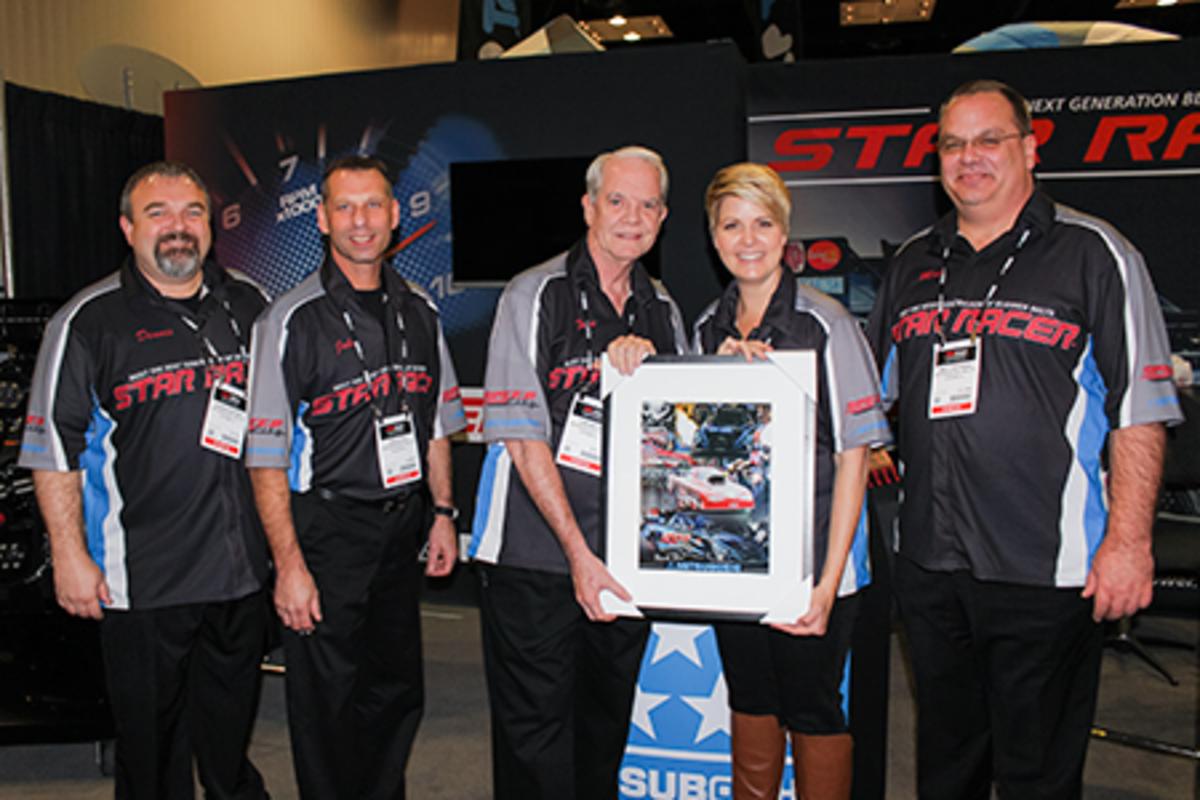 A new generation of racing technology was introduced at the 2014 PRI Show in Indianapolis, IN as OEM belt manufacturer, Mitsuboshi Belting Ltd joined with racing parts retailer Speed City to officially announce the launch of their new supercharger blower belt, Star RacerTM.
Seven years in the making, Star RacerTM Blower Belts are a tribute to their maker, Mitsuboshi Belting Ltd, showcasing the company's persistence and dedication to developing a high quality racing part that far exceeds current industry belt standards. Made from the highest hardness compound rubber (HNRB), low friction tooth fabric and specialized cord the Star RacerTM blower belt is set to make its mark in the racing industry as a high efficiency long lasting performer.
Backing these claims, Mitsuboshi Belting's USA subsidiary, MBL USA meet with members of Speed City at various NHRA race events throughout the 2014 season and began a grueling field test that saw the company's product tested across three different blown alcohol classes and nine different teams. Yielding proof of the products longevity to claim as teams experienced double the run life of the Star RacerTM blower belt compared to industry standard belts. Aside from the NHRA field tests, the Star RacerTM blower belt also found its way onto PDRA, FIA, ANDRA and NTPA vehicles to further solidify the company's confidence of their product.
Introduction of the Star RacerTM blower belt to the racing market at the 2014 PRI Show was lead by MBL USA President, Tom Welsh and Vice President of Speed City, John Bojec. Both companies taking the opportunity to express their excitement for the release and future plans for the product at the Official Product Announcement held Thursday morning at the show. MBL USA President, Tom Welsh was introduced as the opening speaker.
"Today I am proud to announce after working in collaboration with Speed City and a number of race teams for the last six months we are able to offer a solution for many of the racing classes. The Star RacerTM Blower Belt product will be built at our Ottawa, Illinois union facility with some inventory currently available based on research of the most popular sizes." Said Mr. Welsh.
Immediately following Mr. Welsh was Speed City VP, John Bojec.
"We first learnt of Mitsuboshi's intentions to release a new blower belt product to the racing marketplace over twelve months ago and it has been our pleasure to work with MBL USA to gain further ground for market research and field testing of the Star RacerTM Blower Belt. As a racer we understand the value in using quality parts that support your racing program with a value added impact not just to your pocket book but your parts maintenance schedule as well and we believe we have found that in this product." Said Bojec.
MBL USA President Tom Welsh also announced at the show that Speed City will be the official master distributer for the Star RacerTM Blower Belt managing all wholesale accounts, racer bulk sales and general retail sales. Currently the Star RacerTM blower belts are available in 8mm and 14mm limited sizes and the 11mm will be in stock as early as mid-January 2015. Together Mitsuboshi Belting Ltd and Speed City will continue to monitor and grow their product line based on consumer needs and will also be looking towards further expansion into the nitro market in 2015.
Speed City will be releasing information on it's websites SpeedCityPerformance.com and StarRacer.com as it becomes avaliable for each of the companies distributing the Star RacerTM Blower Belts with regards to their contact and sales information for racers to purchase the product.
*All Star RacerTM blower belts are made in the USA. Please contact Speed City for sales inquiries.