Thursday, October 02 2014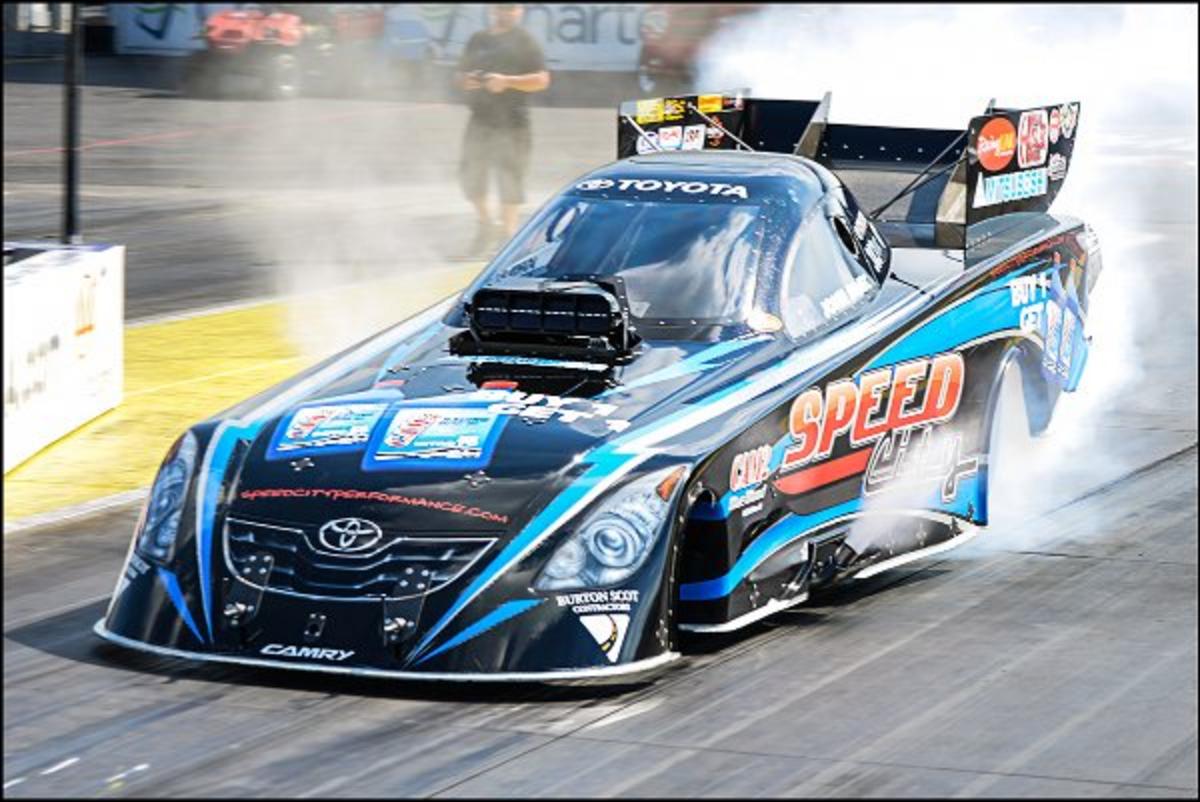 Performance parts retailer Speed City has officially announced their commitment to a three race Nitro Funny Car program in the 2014 NHRA Mello Yello Drag Racing Series. The Speed City NHRA campaign will debut at the NHRA Nationals in Reading, Pennsylvania October 3-5.
Speed City has joined with international OEM belt manufacturer, Mitsuboshi Belting Ltd., as part of a research and development program partnering with Mitsuboshi's US division, MBL USA, throughout the three race events.
Gaining momentum, Speed City will also be debuting CAM2 Blue Blood Racing Motor Oils, Burton Scot Contracting, Hedman Hedders, and RacingJunk.com as part of the team's expanding marketing partnerships.
Driving the 10,000hp Nitro Funny Car will be NHRA Top Alcohol Funny Car Driver, John Bojec. This will be Bojec's first event behind the wheel as he makes the transition into the professional nitro category. The Speed City team has also enlisted the talents of long-time championship winning Crew Chief, Johnny West.
"The excitement surrounding this team right now is impressive. We have momentum to make a strong debut in Reading and we plan to keep it going right on through to Pomona. We are also very excited to be partnering with MBL (USA) as part of their research and development of the next generation of blower belt technology" said Bojec.
Bojec and West will lead the Speed City team as they make their season debut at the NHRA Nationals in Reading, PA. No stranger to Maple Grove Raceway, Bojec is a former Top Alcohol Funny Car Event Winner at this track. The team will than move on to the Toyota Nationals in Las Vegas, NV (Oct. 30 - Nov. 2), before wrapping-up the 2014 race season at the 50th Annual Auto Club Finals in Pomona, CA (Nov. 13-16).
For more information, results, latest news, media, or merchandising for the Speed City Racing team, please check out SpeedCityRacing.com.
Additional Resources:
SPEED CITY – SpeedCityPerfomance.com
Speed City is fast becoming one of the hottest new performance parts retailers in the industry. Specializing in new and used parts, race car and trailer sales, and race engines and chassis services. Speed City is also known for providing sales and support to international customers.
MBL (USA) CORPORATION – mblusa.com
MBL (USA), a division of Mitsuboshi Belting LTD is international OEM belt manufacturer. Manufacturing quality rubber belting products for both original equipment and service parts in the automotive and industrial markets. In addition to supplying the North America Market, MBL (USA) products are exported to many countries worldwide.
CAM2 INTERNATIONAL – cam2racing.com
CAM2 Blue Blood Racing Motor Oils have been proving performance in the racing industry since 1969. Supplying the racer with quality racing motor oils to transmission and gear oils, CAM2 Blue Blood Racing Motor Oils delivers superior performance to meet the extraordinary requirements of high performance racing vehicles.
BURTON SCOT CONTRACTORS – burtonscot.com
Since 1985 Burton Scot Contractors has been servicing the construction needs of the Midwest and Mid-Atlantic regions in both the public and private sectors. BSC has maintained its competitive edge by offering timely and cost effective project management with the highest quality finished product. Our long list of distinguished clients is a testament to our commitment to excellence and service.
HEDMAN HUSLER HEDDERS – hedmanhusler.com
Whether you're a Pro or sportsman racer, Hedman Hedders builds your hedder with one goal in mind, optimum performance. Even if you're not a racer, the lessons Hedman learns at the track and on the dyno, make it into every street hedder we design.
RACINGJUNK.COM – RacingJunk.com
RacingJunk.com, the largest online motorsports marketplace, is a free 'one-stop shop' for those looking to buy, sell, trade, entertain or interact with people throughout the automotive and motorcycle racing and performance communities.
# # #